Credit cards make your life simple and your shopping convenient. With the power of cash, you can use anytime, credit cards come with many valuable advantages, like secure and contactless payment and EMIs, to name a few. Axis Bank, one of India's premier banks, offers customers a range of credit cards, suited to different spending habits. For instance, the Axis Bank MY Zone Credit Card enables contactless payment and is suited to the young consumer with offers on movies, etc.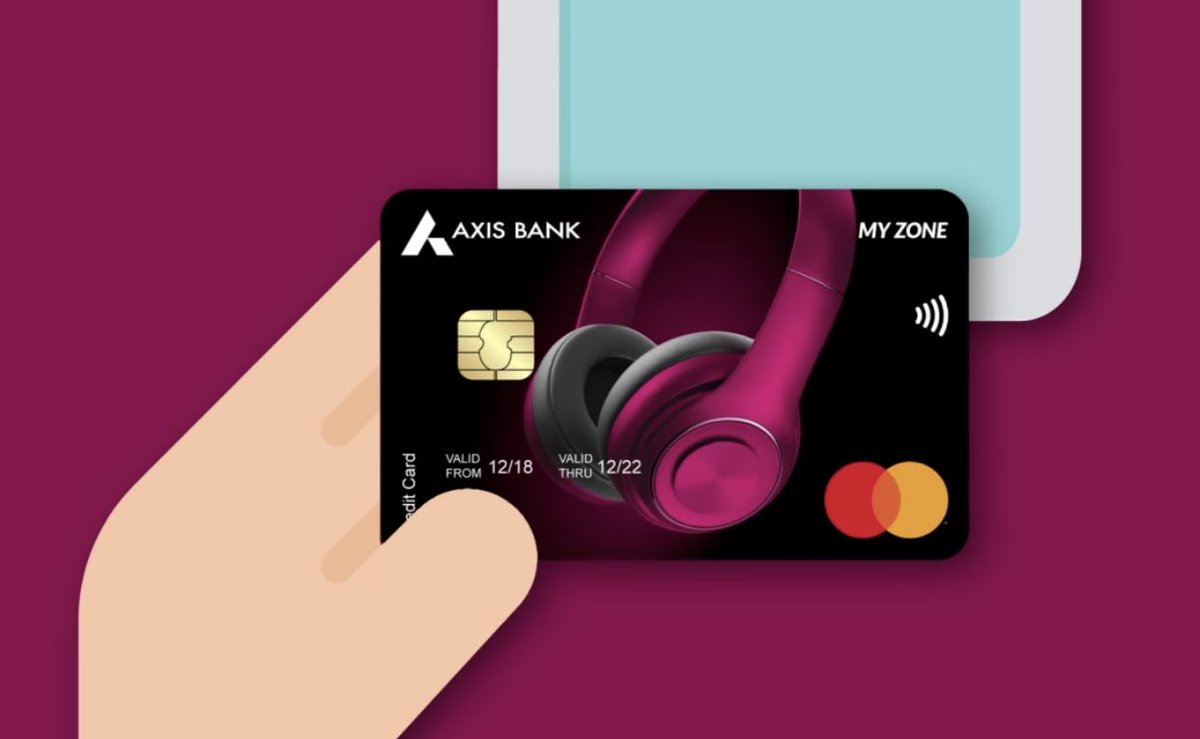 What are the Types of Axis Bank Credit Cards?
Axis Bank cards come with rewards and offers that are specific to your particular spending patterns. Axis Bank offers customers different types of credit cards suited to personalized needs of every kind of consumer. These are the different credit cards that the bank offers, depending on your style and kind of spending behaviour:
Shopping – The Axis Bank MY Zone Credit Card is a super card for shoppers, giving you more reward points when you indulge in retail therapy.
Fuel – The IndianOil Axis Bank Credit Card lets you get waivers on fuel surcharges as well as has cashback introductory offers when you fill fuel.
Lifestyle – The Axis Bank NEO Credit Card is a lifestyle credit card with discounts that you get on many products and services from hotel reservations to dining.
Travel – The Axis Bank Vistara Credit Card gives you the ultimate reward of one free economy class ticket when you get it, plus discounts on air travel in the future.
Make your way to Finserv MARKETS to get all the latest information on types of Axis Bank Credit Cards you can get.
Top Axis Bank Credit Cards
Axis Bank offers users a myriad of cards and choices will be challenging. Nonetheless, here are the hot sellers among the credit cards that the bank makes available:
Axis Bank MY Zone Credit Card – Features and benefits include a contactless payment card. Additionally, you get 4 reward points every time you spend Rs. 200 with the card, and other key features include a flat 40% off on Swiggy. You also get 4 complimentary airport lounge accesses. Concerning charges, joining and annual fees are each Rs. 500 + GST.
Axis Bank Select Credit Card – On joining, you get an Amazon voucher worth Rs. 2,000. Furthermore, you get 10 reward points with every Rs. 200 spent with the card, and 2x while shopping at retail outlets. The joining fee for this card is Rs. 3,000 + GST, and so is the annual fee. However, for the first year, the annual fee is waived off.
Axis Bank Neo Credit Card – The premium features of this card include discounts on Myntra, BookMyShow, Zomato, and Grofers. Moreover, you get an Amazon voucher worth Rs. 250 and a Zomato Pro subscription for a period of 3 months. Joining fees and annual charges are each Rs. 250 + GST per month.
Apply for Top Axis Bank Credit Cards at Finserv MARKETS
Finserv MARKETS is the right spot to find a custom Axis Bank Credit Card that suits your spending style and preference. You can know about the benefits of different cards, plus fees and charges.
Sources: